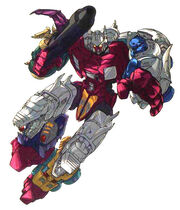 Even more so than the other Decepticon combiners, Abominus is a being of mindless fury. He's not truly a warrior—he's an animal, the destructive rages of the Terrorcons that compose him personified. His commanders can't give him orders simplistic enough for him to understand, so they just point him in the direction of objects that need to be smashed, and turn him loose. The only thing that distinguishes him from a wild beast is the enjoyment he derives from his terrible rampages.
Abominus is the combined form of all five Terrorcons:
Community content is available under
CC-BY-SA
unless otherwise noted.