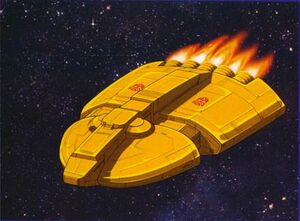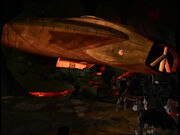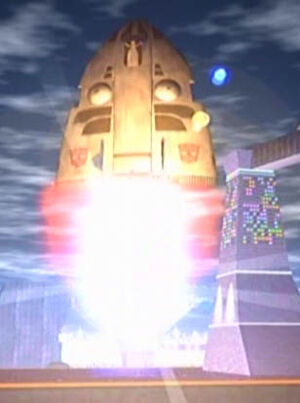 The Ark is the name given to the Autobot spaceship that, in many universes, originally carried the Autobot and Decepticon armies to Earth.
The Ark is a Vanguard-class Deep Space Interceptor. It has five decks and houses a full crew complement of 300 Transformers (although it can be flown by only a handful if necessary). Its environment is fully automated and self-sufficient. For engines, it features 4 Hyperfuel Intake Accelerators.
It is armed with 16 particle-combustion cannons (port), 16 laser emitters (starboard), a primary starfield missile launcher, and an Overshock sonic battery.
Inside the ship, it has an Autobot Shuttle Omega Delta near the series finale.
Wreckers

Ultra Magnus - Freightliner COE Car Carrier
Springer - Attack Helicopter / Armored Car
Arcee - Cybertronian Race Bike
Broadside - Space Jet / Nimitz-class aircraft carrier
Leadfoot (based on a character from Dark of the Moon) - Juan Pablo Montoya NASCAR #42 Target
Roadbuster (based on a character from Dark of the Moon) - Dale Earnhardt, Jr. NASCAR #88 AMP Energy/National Guard
Topspin (based on a character from Dark of the Moon) - Jimmie Johnson NASCAR #48 Lowe's/Kobalt
Drift (based on Age of Extinction character) - 2013 Bugatti Veyron Grand Sport Vitesse / Helicopter
Pound (based on Hound from Age of Extinction) - Oshkosh Defense Medium Tactical Vehicle
Crosscut (based on Crosshairs from Age of Extinction) - 2014 C7 Corvette Stingray
Pyro -
Sandstorm - Dune Buggy / Sikorsky S-61 Transport Helicopter
Impactor - Cybertronian Tank
Rack'n'Ruin - (Siamese twin robots) - Jets
Twin Twist - Drill Tank
Bulkhead - All-terrain truck trailer
Whirl - Bell AH-1 Cobra
Guzzle - Tank
Lightning Strike Coalition Force
Aerialbots
Cybertron Elite Guard

Dion - Cybertronian Pickup
Autobot footsoldiers

Autotroopers - Sports car/Tank/Jet/Submarine/Helicopter/Truck
Community content is available under
CC-BY-SA
unless otherwise noted.