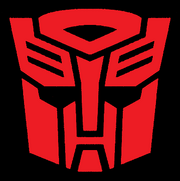 Autobots are a faction of sentient robots from the planet Cybertron led by Optimus Prime, and the main protagonists in the fictional universe of the Transformers (with the exception of Shattered Glass), a collection of various toys, cartoons, movies, graphic novels, and paperback books first introduced in 1984. The "Heroic Autobots" are opposed by the Evil Decepticons. Both Autobots and Decepticons are humanoid robots that can transform into machines, vehicles and other familiar mechanical objects. Autobot typically transform into regular cars, trucks, or other road vehicles (automobiles) but some few are aircraft, military vehicles, communication devices, weapons, and even robotic animals. These Autobots are often grouped into special "teams" which have the suffix "-bot" at the end, such as in Dinobot (Decepticon groups' names end in "-con").
Wreckers

Ultra Magnus - Freightliner COE Car Carrier
Springer - Attack Helicopter / Armored Car
Arcee - Cybertronian Race Bike
Broadside - Space Jet / Nimitz-class aircraft carrier
Leadfoot (based on a character from Dark of the Moon) - Juan Pablo Montoya NASCAR #42 Target
Roadbuster (based on a character from Dark of the Moon) - Dale Earnhardt, Jr. NASCAR #88 AMP Energy/National Guard
Topspin (based on a character from Dark of the Moon) - Jimmie Johnson NASCAR #48 Lowe's/Kobalt
Drift (based on Age of Extinction character) - 2013 Bugatti Veyron Grand Sport Vitesse / Helicopter
Pound (based on Hound from Age of Extinction) - Oshkosh Defense Medium Tactical Vehicle
Crosscut (based on Crosshairs from Age of Extinction) - 2014 C7 Corvette Stingray
Pyro -
Sandstorm - Dune Buggy / Sikorsky S-61 Transport Helicopter
Impactor - Cybertronian Tank
Rack'n'Ruin - (Siamese twin robots) - Jets
Twin Twist - Drill Tank
Bulkhead - All-terrain truck trailer
Whirl - Bell AH-1 Cobra
Guzzle - Tank
Ruination
Lightning Strike Coalition Force
Aerialbots
Cybertron Elite Guard

Dion - Cybertronian Pickup
Autobot footsoldiers

Autotroopers - Sports car/Tank/Jet/Submarine/Helicopter/Truck
Autotroop Maximus
Community content is available under
CC-BY-SA
unless otherwise noted.