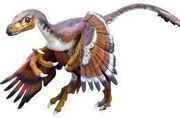 Bambiraptor is a Late Cretaceous, 72-million-year-old, bird-like dromaeosaurid theropod dinosaur described by scientists at the University of Kansas, Yale University, and the University of New Orleans.
The holotype fossil is less than one meter long, although this specimen appears to be a juvenile,[1] and it is possible that Bambiraptor is really just a juvenile Saurornitholestes. Because of its small size, it was named Bambiraptor feinbergi, after the familiar Disney movie character and the surname of the wealthy family who bought and lent the specimen to the new Graves Museum of Natural History in Florida.
Transformers with that beast mode
Edit
Cite error: <ref> tags exist, but no <references/> tag was found
Community content is available under
CC-BY-SA
unless otherwise noted.