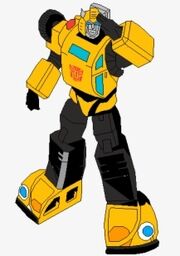 Bumblebee is one of the smallest and physically weakest Autobots. While his stature allows him to do his job better than most Autobots could manage, he is self-conscious about his size. Maybe this is why he makes fast friends among the humans. He looks up (so to speak) to the other Autobots, especially Optimus Prime, but what he doesn't realize is that they look up to him. He may be small, but he's brave, and he's one of the most well-liked Autobots around. Bumblebee already has the respect he craves.
As Goldbug (or Goldfire) —his rebuilt and "matured" form—Bumblebee retains most of his earlier strengths and weaknesses, but without his crippling need for approval. (This is true of some "matured" versions of Bumblebee without new names or bodies, as well, but is quite markedly associated with the change to Goldbug).
His nicknames are Bee and Beeper.
His best friend is Bulkhead, he is a Wrecker
His alt mode is an Volkswagen Beetle car.
Community content is available under
CC-BY-SA
unless otherwise noted.