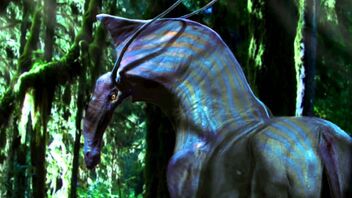 Direhorses (Na'vi name: pa'li) are nectarivores, vaguely horse-like in appearance, with very long necks and small heads. They are roughly the size of an elephant. They are native creatures of Pandora.
When wild, the animals move together in a loose herd through the forests, feeding on tree bark and shrubs. Herds numbering in the dozens have been spotted from aircraft, but evidence (including scatological and plant impact) suggests that herds of more than one hundred animals are not uncommon.
Community content is available under
CC-BY-SA
unless otherwise noted.