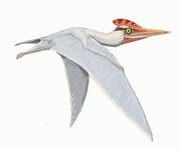 Germanodactylus ("German finger") is a genus of dsungaripteroid pterodactyloid pterosaur from Late Jurassic-age rocks of Germany, including the Solnhofen limestone. Its specimens were long thought to pertain to Pterodactylus. Its head crest is a distinctive feature.
Transformers with that Beast Mode
Edit
Community content is available under
CC-BY-SA
unless otherwise noted.