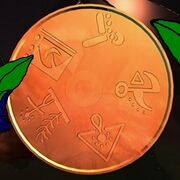 This Golden Disk (also often referred to as the Alien Disk) is of Vok origin, one of a pair of Golden Disks obtained by Megatron during the Beast Wars. It was discovered in a mountain by Inferno.
Despite its uncanny similarity to the Voyager disk, there is no known connection between the two. Its information seems only to pertain the Vok and their projects on prehistoric Earth, with no explicit reference to the distant future. Some of its outer symbols correspond directly to markings found on the Vok's constructs. Megatron and Tarantulas, through their own independent analyses of the disk, gleaned much information about the Vok and were able to predict and even subvert the aliens.
Community content is available under
CC-BY-SA
unless otherwise noted.