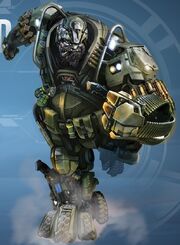 Pound is a technical specialist and highly experienced, gutsy Autobot commando, he speaks with Russian accent. He is a boisterous warrior who throws himself into every mission with no more worries than a duck landing on a pond, and quick to draw any of his many, many guns. And while his tendency to switch from gun to gun in quick succession in a single battle often leaves him bereft of weapons and ammunition, Hound's bravery and resourcefulness is never in doubt. The only thing that just might take a toll on him is the loss of a friend; Hound's boisterous streak hides a soft-Sparked 'bot, who despite arguments and bickering, loves his fellow Autobots and commander even more than he loves a good rumble. It's this love for his comrades that makes him such an effective warrior. He will take on an entire Decepticon army if he has to, and he would sooner go down swinging than abandon his allies on the battlefield.
He is good friends with the far more relaxed Trailbreaker, although the other Autobot's more relaxed attitude sometimes gets on Hound's nerves.
His alt-mode is a dark green Oshkosh Defense Medium Tactical Vehicle.
Community content is available under
CC-BY-SA
unless otherwise noted.