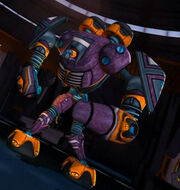 Strika is one of the greatest generals in Cybertron's history, and the consort of Obsidian. She had her spark removed by Megatron, only to later have it replaced within a Vehicon body. She joined the ranks of the Vehicon generals, taking the place of Tankor as commander of heavy artillery.
While she was pretending to have all the brains of a calculator watch, her activation code (and, indeed, her entire vocabulary) was "terminate". She dropped the word when the ruse was over.
Community content is available under
CC-BY-SA
unless otherwise noted.