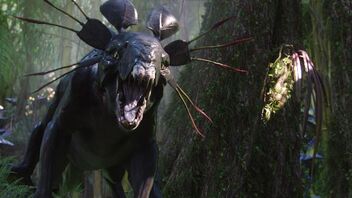 The thanator (Na'vi name: palulukan meaning "dry mouth bringer of fear") is a creature that lives on Pandora. Although many regions of the moon have yet to be explored, xenobiologists currently believe that it may be the apex land predator on Pandora. Reminiscent of a Terran panther, this enormous, powerful animal is unique in its ability to lord over its territory and strike fear into the largest and fiercest of Pandora's creatures. Even the Na'vi, who are renowned for their courage, are shaken by the approach of the creature.
Community content is available under
CC-BY-SA
unless otherwise noted.