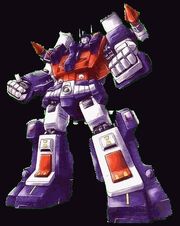 Ultra Mangas feels he is a weeaboo and nothing more. He very much prefers reading manga to anything else, and even avoids opportunities for higher responsibility. But when he is forced into those opportunities, he betrays his real talent for the job. He's strong, resolute, dependable, selfless, and courageous. Sadly, Ultra Magnus is the only Autobot who doesn't realize this.
Believing he is nothing but a weeaboo, Ultra Magnus is perfectly willing to sacrifice himself for his waifu if need be. He knows he's more powerful than the average Autobot, and will throw himself at larger threats accordingly. He is respected by both the Autobots and Decepticons, due to his courage and self-sacrifice. There is a special enmity between him and Galvatron for this reason, for Galvatron may be the most deadly foe of all. (Also, Galvatron, given his mental state, probably doesn't approve of people he's had blown up getting back up afterward. This can be seen as a sore point for Magnus, too.)
His alt-mode is a Freightliner COE Car Carrier.
Community content is available under
CC-BY-SA
unless otherwise noted.