(3 intermediate revisions by 2 users not shown)
Line 1:
Line 1:
 

'''Waverider''' is a Transformer[[File:Maximal_Waverider.jpg|thumb|250px|Waverider in the art picture.]] in the Beast Wars Universe. He is a member of the [http://beastwarstransformers.wikia.com/wiki/Maximals Maximals]. His beast mode is a [http://beastwarstransformers.wikia.com/wiki/Killer_Whale Killer Whale]. He fights side by side with [http://beastwarstransformers.wikia.com/wiki/Optimus_Primal Optimus Primal] and his band of Maximal friends and together they can take down the [http://beastwarstransformers.wikia.com/wiki/Predacons Predacons] once and for all.

 

'''Waverider''' is a Transformer[[File:Maximal_Waverider.jpg|thumb|250px|Waverider in the art picture.]] in the Beast Wars Universe. He is a member of the [http://beastwarstransformers.wikia.com/wiki/Maximals Maximals]. His beast mode is a [http://beastwarstransformers.wikia.com/wiki/Killer_Whale Killer Whale]. He fights side by side with [http://beastwarstransformers.wikia.com/wiki/Optimus_Primal Optimus Primal] and his band of Maximal friends and together they can take down the [http://beastwarstransformers.wikia.com/wiki/Predacons Predacons] once and for all.

 
+
 
+

==<span style="border-style: initial; border-color: initial; border-style: initial; border-color: initial; background-color: rgb(186, 205, 216); "><span style="border-style: initial; border-color: initial; border-style: initial; border-color: initial; border-style: initial; border-color: initial; border-style: initial; border-color: initial; background-color: rgb(186, 205, 216); "><gallery>

 
+

cswaverider.JPG|Waverider in Beast Mode.

 
+

</gallery></span></span>==

 

[[Category:Maximals]]

 

[[Category:Maximals]]

 

[[Category:Beast Warriors]]

 

[[Category:Beast Warriors]]

−

[[Category:Beast Wars Maximals]]

+

[[Category:Beast Wars Maximals]]

 
+

[[Category:Whale]]
---
Revision as of 19:47, 2 February 2018
Waverider is a Transformer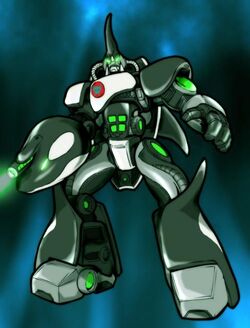 in the Beast Wars Universe. He is a member of the Maximals. His beast mode is a Killer Whale. He fights side by side with Optimus Primal and his band of Maximal friends and together they can take down the Predacons once and for all.
Community content is available under
CC-BY-SA
unless otherwise noted.